🢒
COR CERTIFIED / SAFETY TRAINING / SAFETY ON JOB SITES / AODA - CUSTOMER SERVICE STANDARD /
Can Mar's philosophy of
"Safety First"
and it's goal of ZERO ACCIDENTS / INCIDENTS allows us to set a high standard for compliancy in the area of health and safety.
Can Mar Contracting has always made the health and safety of its employees, job-sites and general public a top priority. As our company continues to grow, so do our efforts in ensuring that we provide a safe working environment for all.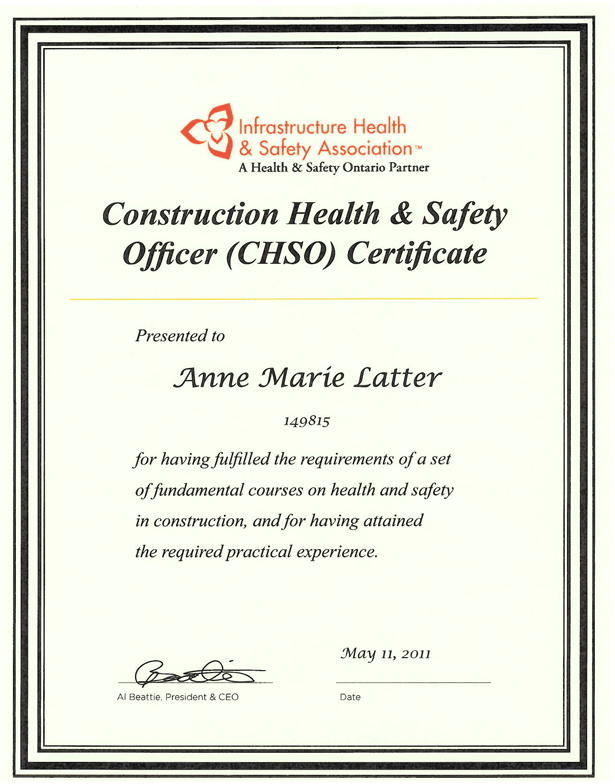 In this regard, Can Mar Contracting Ltd. has taken the iniative to hire a full-time health and Safety Co-ordinator who directs the company in the implementation and training of current safe work practices and procedures.
Can Mar believes in leading by example and knows that the extra emphasis placed on health and safety sets a positive tone for its employees and subcontractors.
Contractor & Owner Roles in Health & Safety
(Power Point Presentation)
We are proud to announce that CanMar is now a COR™ Certified Member!

What is COR™?
Certificate of Recognition (COR™)
is a comprehensive health and safety audit tool with an accredited certification program in Ontario that is granted by the Infrastructure Health and Safety Association (IHSA). IHSA is the designated body for certifying contractors in Ontario's construction industry who demonstrate their standards of health and safety management systems through a structured audit process. COR™ provides validation that a contractor has demonstrated an understanding of health and safety and has made a commitment to continuous monitoring and application of its program when delivering construction activities.
The key value of COR™ is that not only are health and safety programs reviewed to ensure that they are comprehensive, but that it will drive the need for integrating safety into the overall business process and planning of each contractor around how they conduct business on behalf of the City of Toronto.
Training is vital to the success of any health and safety program. At CanMar Contracting Ltd. we provide our employees with many opportunities to learn about health and safety in the workplace. Much of our training is done in house under the direction of our full time Health and Safety Co-ordinator.
All CanMar employees are certified and current in
WHMIS (Workplace Hazardous Materials Information System)
. Our workers have also been trained in one or more of the following:
Standard First Aid CPR Level C
Propane Handling
Confined Spaces Hazard Awareness
Basics of Fall Protection
Supervisor Competency
Forklift Safety
Scaffold Users Hazard Awareness
Personal Protective Equipment
Suspended Access Equipment
Entering our jobsites, one will become immediately aware of the high priority we place on safety. CanMar supplies all its employees with up-to-date CSA and Ministry of Labour approved personal protective equipment.
With Ministry of Labour standards serving as a minimum mandatory requirement on our job sites, CanMar strives to achieve its goal of ZERO ACCIDENTS / INCIDENTS by implementing various measures and practices such as the mandatory use of high visibility clothing and reflective safety vests.
Training workers in the proper use of personal protective equipment, proper handling procedures and proper work practices are also a top priority and key factor in achieving our goal of ZERO ACCIDENTS / INCIDENTS.
AODA - CUSTOMER SERVICE STANDARD
Customer Service Standard - Can Mar Contracting Ltd.'s Policies and Procedures
Can Mar Contracting Ltd. is committed to providing accessible service for its customers/clients. Whether we provide the goods and services from our main office or at our customer's location, these goods and services will be provided in a manner that is based upon the principles of dignity, independence, integration and equal opportunity to all. The provision of goods and services to persons with disabilities will be integrated wherever possible.
For the full PDF document please click on the link below: